February 24, 2014
Oscar Best Picture Round-Up 2014
The Oscars will be presented on Sunday night. So I wanted to take a moment, now that I've finally managed to cram in watching the last of the Best Picture nominations, to give my reactions to this year's selection of films in the Best Picture category. I'll be reviewing the films in the order that they appear on the Oscar ballot PDF that you can download from Oscars.com, which in this case is alphabetical.
I will not be reviewing all of the films in as much detail as I might like (though with a few I can't seem to help myself), but then I don't want this blog entry to be exceptionally long. It will be long enough as is. So I'm hitting the major points of each film and providing my subjective take on whether each film might deserve an Oscar (or even deserves the nomination it got in the first place).
Now, one word of caution: If you have not seen some or any of these films, you may encounter some spoilers below. You may want to skip over films you haven't seen yet if you have your heart set of seeing them. Or you can skim through to see what rating I give each movie (at the end of each review) and read my conclusion which has no spoilers.
American Hustle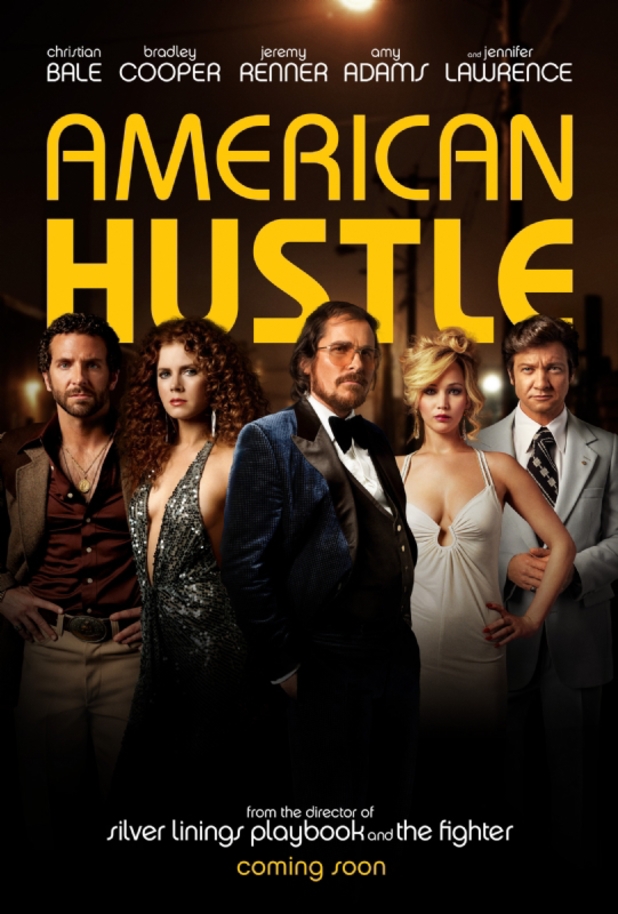 Director David O. Russell offers up another film with interesting characters in complicated relationships. Very loosely based on actual events, Russell dives into the world of con-man Irving Rosenfeld, played by Christian Bale. Irving is a fascinating character, though at first I am unsure he's all that likable. But then, characters don't need to be likable to be intriguing. But slowly, Irving is changing. And this is ultimately what won me over to the film. Some of the acting feels a bit stiff in places, as if the these are bit more of caricatures of certain ideas in Russell's mind than fully fleshed out and three-dimensional characters. But slowly, the film overcomes this to a great degree, managing to offer us Irving's transformation from a man who has only used people to his own ends to someone who, in spite of himself, discovers he's found a true friend. Of course, he discovers this only as his betrayal of their friendship comes crashing down on them.
The filmmaking is elegant and immersive in its period style. Many scenes were shot in Boston and Worcester, Mass. I even recognized the interior of the Fairmont in Copley Plaza in Boston (where I've done some shooting myself). The locations and wardrobe add to the aesthetic effectively. Yet, the film feels less moving and a bit more like a curiosity to me. I often felt a distance from the characters and a sense of detachment form their problems, voyeuristically observing for the sake of curiosity. And yet the film has many merits in its own right. There are genuine moments of laughter and genuine moments of emotional connection to the characters. And in this sense, the film is good. But the moments feel a bit fleeting to me to ultimately deserve winning Best Picture.
My rating 8/10.
Captain Phillips
Director Paul Greengrass again dramatizes of a very real and very recent event in this film much as he did with United 93. In classic Greengrass fashion, he drops us into the middle of the mess with his hand-held cameras and frantic action. The film is effectively structured, moving forward with increasing speed. Tom Hanks delivers a performance that slowly builds over the course of the film. I must admit that both times I saw this film (I screened it just this month at The River Film Forum) that the very first scene of real dialogue in the car as Phillips and his wife drive to the airport feels stunted and awkward. It feels as if some important bit of exposition needed to be conveyed in this scene (maybe that they have kids and they are concerned about them and the world they are growing up in–but then, what parent isn't?), but the scene feels forced and flat, even with veteran actors like Hanks and Catherine Keener. I fault the script for this. The dialogue was on the nose and unnatural. It might not seem like a big deal to some, but I have to admit that both times I watched the film, it started the experience off on the wrong note for me.
But in the end, the film is so compelling and engaging, that this early shaky start is forgotten. Captain Phillips, to my mind, plays out like a calculated observation of a specific and tragic event that has ties to much larger and deeper issues. Hanks manages to play a very complex Phillips who at first sight might strike some as rather heroic. But upon further reflection, I see many selfish and dangerous choices made by Phillips throughout the ordeal. Contrary to what some have expressed about the film, I feel a fair perspective on the Somali pirates is presented. Both times I saw the film I felt a deep ache in my heart for the pirates. While I do no agree or remotely condone their choices, I find myself understanding how these men have reached a point of sincere desperation that drives them to such desperate and violent measures. In the end, I feel the most important line in the movie comes in the claustrophobic second half of the film when Muse, leader of the pirates played by Barkhad Abdi, and Phillips have a conversation about what has led Muse to this life of piracy. Muse, a former fisherman, had his livelihood stolen when commercial fishing ships over fished his native waters. He's now simply fishing the same waters for the only commodity available, it would seem:  Freight ships that can be held for ransom. Phillips presses him about who gets all the ransom money. Muse responds that they have bosses (specifically the Somali war-lord safely back on land sending out young men to do all the dirty work). Phillips replies with "We all have bosses."
Why is this line so important? I believe it hints strongly at Greengrass' veiled criticism of capitalism that is capable of leading to these situations. Phillips at one point claims his ship has food that's going to nations like Somalia. Muse doesn't bat an eye at this, and frankly neither should the audience. This is a bold-faced lie (part of Phillips' complexity as a character). In the end, "We all have bosses" reminds us that Phillips has made the choices he's made to protect the cargo of this ship so that his bosses will remain happy with him. Turn a ship over to pirates to do with as they please and risk losing what has to be in the hundreds of millions of dollars of products being shipped to our consumer-driven first world societies, and Phillips will never captain another ship again. "We all have bosses" summarizes the messy nature of global politics that leads to desperate confrontations like this. While some feel the film might play up the heroic nature of the military response that ultimately saves Phillips, there's a comical quality to watching three large American ships chase down one little escape boat. Embedded in the film are hits of a more critical view of all of this, including directives given to military leaders to take care of this situation as it's become big news back home.
Initially, Captain Phillips never struck me as a Best Picture nomination waiting to happen. Upon further reflection, I think it deserves the nomination. And ultimately, Hanks delivers one of the most haunting performance of sheer and complete shock at the end of the film. If this was truly a celebration of military might, credits would roll much sooner. Instead, we linger on a very shaken man covered in blood as he's given medical attention. And that is the power of Captain Phillips. Regardless of our political perspectives on all of this, we can all appreciate that this is a tragic and scarring situation with no easy answers that ultimately has a devastating power on the lives of the people it touches, regardless of their nationality.
My rating: 9/10
Dallas Buyers Club
Director Jean-Marc Vallée bring to life a rather difficult true story. Ron Woodroof, played by Matthew McConaughey, is a rodeo show low life of sorts with gambling debts and a promiscuous libido that ultimately shatters his life when he's diagnosed with HIV. Dallas Buyer's Club chronicles his transformation as he seeks to illegally acquire experimental drugs to combat the disease. His new life brings him into contact with people society has rejected, like Rayon, played by Jared Leto, a transvestite and fellow HIV patient. Ron at first wants nothing to do with anyone remotely like Rayon. But a friendship grows between the two as Ron confronts his own status as an outcast in 1980s Dallas since his HIV-positive diagnosis.
The transformation Woodroof experience happens in stages and forever changes him for the better. Where he first sought only to find help for himself, he eventually begins to find a means to get drugs into the hands of other HIV patients. At first this is done for profit, but you can feel his perspective change over the course of the film as he eventually begins selling off his own assets to ensure that more people get the drugs they need. He starts off as a homophobe, but finds real friendship in Rayon. What begins as a selfish quest to combat his own HIV ends up as a fight against a system that did not seem to care for real people living with HIV and AIDS in any real sense.
With this film, McConaughey has given us a great another performance, following his role in Mud. Dallas Buyer's Club builds off of a well crafted script and dares to look in on the lives of those who maybe have not made the wisest choices (as Woodroof clearly did not leading to his contracting HIV), but offers us an experience of empathy and transformation.
My rating 8/10
Gravity
Easily one of the most anticipated films of 2013, Gravity is a cinematic tsunami. Director Alfonso Cuarón completely envelops us in a visceral experience. At it's core, Gravity is an action movie. We are not given any great amount of back story. But then, back story and character development are not the focus of the film, nor  are they exactly necessary to accomplish what Gravity sets out to provide us with. Yet, the thrilling story of survival combines not just amazing achievements in digital filmmaking and VFX to create an immersive and harrowing experience of space but also offers just enough insight into who astronaut Ryan Stone, played by Sandra Bullock, is to get us to desperately care about what happens to her. Slowly, as rare moments of calm allow it, we learn about Stone's past and her lingering pain at the loss of her daughter. Bullock breathes such authenticity into these mere hints of her character's past that we have no problem believing there is so much more to Ryan Stone which under different circumstances we could learn about. But right now, we need to get home! Bullock gets us to feel so deeply for Stone that at points, it's hard to breathe as we watch her struggle to do what she must to survive.
Shot by Emmanuel Lubezki who shot Children of Men for Cuarón as well as The New World, The Tree of Life, and To the Wonder for Terrence Malick as well as the newest untitled Malick film currently in post-produciton, Gravity is a very different approach to the more traditional though no less breath-taking cinematography Lubezki is accustomed to. The film is nominated for Best Cinematography as well, and many debates will likely range about what the award even means anymore should the film win. This debate began with Avatar, continued with Life of Pi, and is likely to continue with Gravity, yet another visually stunning film that was mostly shot on a sounds stage.
Nonetheless, Gravity is a deserving film of a best picture nomination. It embraces the simplicity of its story and does not pretend to be anything else. It is designed from start to finish to be a truly emotive and immersive experience. The film is not just visually stunning, but also offers probably the very best sound design I've heard is years. In the end, Gravity taps into the primal nature of storytelling. As some neuroscientist argue, the reasons our brains are so tuned into stories is that our brain's primary function is to keep us alive. In the quest for survival we latch onto stories as a means to vicariously experience harrowing scenarios so we can learn how to potentially survive such a scenario if we ever find ourselves in a similar situation (see Wired for Story). In this sense, Gravity is primal storytelling for the 21st century. It's definitely one of the highlights of my year in film viewing.
My rating 9/10
Her
Written and directed by Spike Jonze, Her dares to look down the road at our reliance on and our relationship to technology. In an increasingly fragmented and individualistic society where so much of our communication happens through smart phones, Facebook, Twitter, and other oddly personally-impersonal methods, Her runs out ahead of us and asks us to consider where we are blinding headed while we walk and text. What if eventually my smart phone or iPad or computer are no longer merely the means by which I casually converse with my friends, some of whom live hundreds of miles away, but rather I become invested in relating and communicating with my devices themselves? Sounds silly, right? Well, maybe … until Scarlett Johansson's voice and a full blown personality emanates from my smart phone or computer (Are you talking to me? Well … hi there.).
Theodore, played by Joaquin Phoenix, has a job as writer of custom personalized "hand-written" (though they're definitely just printed) notes people hire his company to create so they can send to other people. Right away we're dropped into this personally-impersonal reality where when someone wants to really speak their heart to a person they love, they hire a professional to do it for them. It would sound laughable if it wasn't so believable. We're almost there right now.
From there, we are introduced to OS1, the new artificially intelligent operating system that works across platforms so it can integrate your experience of your desktop and your mobile device. As Theodore, a lonely man whose ex-wife is waiting for him to sign divorce papers any day now, installs his new operating systems, he is asked to make certain choices. He choses a female voice for his OS1 (and in comes Johansson's voice). When he asks her what her name is, she names herself Samantha. And from there, Samantha grows in depth of personality at an incredible rate. It isn't long before Theodore and Sam are friends, laughing and talking through out the day and night. And slowly, this friendship grows into more.
To some, it can seem silly to think of a man falling in love with a disembodied artificially intelligent operating system. To other this sounds ludicrous. And to others still this may seem like an excuse to exploit ideas about sexuality. Her is none of these things. It dares to stare into the dark and secret corners of our evolving ideas about relationships, love, and sexuality in an increasingly technology-dependent society where how we relate is fundamentally changing what relationships are. Her isn't shy about such things, but it never exploits either. In fact, in an amazingly daring move, Jonze allows the screen to go black for what feels like quite a long time during the first time Theodore and Samantha make love. But is this just artistic abstraction or is Jonze suggesting that as Theodore engages in a sexual relationship with an AI being that he too is in a very key way becoming disembodied himself. I'll let you work that out.
Her is sci-fi at its finest! It is speculative about our future, but firmly grounded in our present. It is high concept in nature but thoroughly human at its core. It is a cautionary tale, but one that haunts us not because the characters and their world are so distant and removed from us, but because they are so fundamentally just like us. I feel Theodore's pain and loneliness in every frame of this film. And what's more, I sincerely empathize with Samantha as she struggles with what it means to gain personhood and be in a relationship with a human being when a fundamental metaphysical divide separates Samantha and Theodore. But then, doesn't a fundamental metaphysical divide separate us all?
My rating 10/10
Nebraska
Director Alexander Payne consistently makes films with awkwardly and endearingly real characters. He makes an interesting choice in Nebraska in shooting it in black and white (on a digital format, no less). No doubt, this choice limits the general audience of the film since too many of the movie-going crowd seem to have an aversion to anything monochromatic (which bums me out). But, damn it if it doesn't just fit the film!
Nebraska reminds me of David Lynch's The Straight Story (Lynch's most "normal" film). Bruce Dern plays Woody Grant, an old man who believes he's won a one million dollar prize from a magazine subscription marketing sweepstakes. Much like the main character of The Straight Story, Woody sets out on a long journey by unconventional means. But he sets out of foot, unlike Alvin in The Straight Story who makes his journey on a lawnmower. Woody fails to get very far on foot as he's constantly interrupted by his son, David, played by Will Forte. David tries his best to convince his father that this sweepstakes win is a sham. Finally giving up on trying to fight this thing, David decides he's going to spend some time with his father and take him from their home in Montana to Nebraska where the sweepstakes headquarters are located.
This is quirky family drama and road movie wrapped up into a unique package. I highly appreciate Forte playing a much more subdued character than we're used to seeing, and it shows that he has great range. There are some moments with some of the supporting cast where I found myself surprisingly pulled out of the movie experience and very aware of flat and forced acting. But overall, I found the film engaging, charming, and endearing. To my mind, it is not as strong of a film from Payne as some of his past films like About Schmidt, Sideways,  and The Descendants. In fact, I think I might like at least About Schmidt and The Descendants more than I do Nebraska, but that doesn't make Nebraska a bad film by any stretch of the imagination.

My rating 8/10
Philomena
Based on real events, Philomena tells the story of disgraced BBC reporter Martin Sixsmith, played by Steve Coogan (who was also a co-writer of the script), as he picks up his life after an unfortunate incident that has ushered him out of the BBC. Lost and unsure of what direction to head in, he at first scoffs at the idea of doing anything so common as a "human interest story." But he reconsiders. And so he meets Philomena Lee, played by Judi Dench. Forced by nuns as a girl to hand over her son she bore out of wedlock to be adopted, Philomena has had an aching hole in her heart for nearly fifty years. Interested, but trying to play detached, Sixsmith embarks on the journey to help Philomena find her long lost son. Of course, he does so in order to get a great story, but Sixsmith discovers along the way that this simple Irish woman may have a deeper and richer understanding of life and unconditional love than his Oxford-education mind can wrap his itself around.
In a sense, Philomena might be seen as a "human interest movie" by more cynical filmgoers. But then again, the only thing that really interests me in movies is humanity. For my money, Philomena is sublime virtue (a concept I recently discussed in this blog entry.). I was convinced about 30-minutes into the film that what I was watching was definitely one of the best films I've seen in a while, and it did not disappoint–though it did hold many surprises! Director Stephen Frears carefully and deliberately molds a beautiful and moving story. I connect with Sixsmith's cynicism and attempts to maintain a level of intellectual superiority (I get it, it feels somehow safer to be so detached), and yet Philomena is my role model. With every obstacle, here is a heart that hurts deeply and bleeds openly, but she always finds a way to respond with love. The climax of the film had me stunned. It moved me so instantly from laughter to sincere awe that I could scarcely believe it. Tackling very relevant issues relating to continued tensions between the religious corners of our society and our justified anger at what has been done in the name of Christ by many Christians, Philomena offers up an entertaining and moving meditation on what forgiveness means, even when we're the only one willing to forgive.
My rating: 10/10
12 Years a Slave
Based on the book Solomon Northrup wrote about his own experiences, Steve McQueen's 12 Years a Slave dramatizes the very real and very dark ordeal Northrup was subjected to. A free black man living in the north, Northrup is duped by people he believes will be business partners and then sold off into an illegal slave trade that lands him in the south. He's torn from his family and stripped of his humanity. Many will note that 12 Years is not an easy film to watch. That is as it ought to be, I might point out. Chiwetel Ejiofor, who plays Northrup, offers us an opportunity to walk for a while in the shoes of a man who has been robbed of life and dignity. And while there are many films that have dealt with the very ugly history of slavery in America, the lasting repercussions from that chapter of our nation's history still flow through our society today. I'm not sure we'll ever be done dealing with this reality. Especially as we need reminders that this reality rests not only in our past but also in our preset as human trafficking, just what we call slavery today, is very real and happening in the dark corners our own towns and cities.
Taking notes from Terrence Malick, McQueens uses everything at his disposal to put us in the mind and skin of Northrup. 12 Years might be a completely different movie than Gravity, but both films tapped right into my instinct for survival and longing to return home. Of course, in both stories, you may make it home … but you're never the same. That is definitely the case for Northrup. More than just twelve years of his life have been taking from him. But the real power of Northrup's story is that it gives us a real glimpse into the stories of many other people who never returned home, for whom their entire earthly existence was under the oppressive weight of tyranny and hatred. Some movies profoundly move me. Others break me. As a new father looking out into the world with new eyes and wondering how to teach my daughter to fight hate with love, I can't help but watch 12 Years and feel just how close we still are to this chapter of our history. Our attention spans may be short these days, but next year we will celebrate the 150th anniversary of the ratification of the 13th Amendment which ended legal slavery in America. For many African-Americans living today, they are only a generation or two removed from slavery. In the grand scheme of things, this happened just yesterday!
As I said, some films move me, others break me. 12 Years a Slave broke me. That is as it ought to be.
My rating 10/10
The Wolf of Wall Street
I am a long-time Martin Scorsese fan. So it was with great anticipation that I watched The Wolf of Wall Street. The film is expertly made, and Leonardo DiCaprio's performance is out of this world. Jonah Hill's performance is amazing. Make no mistake about it, in a very real sense, Wolf is a good movie. But in another (and I suspect more meaningful) sense, it most definitely is not. This Scorsese fan is profoundly disappointed with Wolf.
I believe Scorsese intended to make make a cautionary tale. But Scorsese is so adept at making engaging and visceral drama on screen that I could not escape the feeling that inadvertently all of the corruption, sex, and drugs seemed rather … well … cool. I believe to an extent that was the point. These things do seem cool at first. But there is a price to pay. And so I believe that the film sets out to be a cautionary tale, but the end result falls so completely flat to me that I just cannot buy it. Jordan Belfort, played by DiCaprio, journeys the corrupt world of Wall Street and rises to prominence. But eventually, investigations begin. And while FBI Agent Patrick Denham, played by Kyle Chandler, seems likable enough, he is ultimately flat and uninteresting as he's given minimal development and screen time. Wolf is singularly focused on Belfort and seems confused about weather he's a villain or a hero.
What ultimately falls short for me about Wolf is that Belfort's character arc seems flat. I don't feel he changes at all in the end. There are only two ways Wolf could have been a true cautionary tale: First, Belfort could have sincerely learned his lesson and set out to make restitutions. But all we see from Belfort is that he's sincerely sorry that he got caught. Restitutions? Forget about! Second, Belfort could have faced a tragic end ranging from life in prison to (borrowing from Shakespeare or the horror genre here) a grisly death directly resulting from his ill choices (strictly within the world of fiction). But the ultimate problem seems to me that the real Jordan Belfort on whom this movie is based (and who wrote the book the film is adapted from) faced no such end and learned no such lesson. I question the wisdom of making a film based on such source material and find myself in the camp of the detractors from this movie who claim it does more to glorify the corruption of Wall Street than to comment on it.
Clocking in at nearly three hours long and filled with scenes likely worthy of an NC-17 rating (okay, okay, we get it, Wall Street is a sex-crazed land of debauchery, can we please just get back to the story?), this is one Scorsese film I won't be revisiting. Not only is this my least favorite Best Picture nomination, I frankly wish it wasn't nominated at all! Sorry, Scorsese. I would have much more appreciated a nomination for Mandela: Long Walk to Freedom.
Dear Scorsese, I'm still a fan of your. I just think you missed the mark on this one. But I really look forward to seeing Silence, as I'm a huge fan of that novel. Now there's source material for a good movie!
My rating 5/5
Conclusion
So there you have it. Those are my thoughts on the Best Picture nominations. But what should win? What will win? I suspect that 12 Years a Slave will take home the Oscar. It is possible that McQueen will also take home the Oscar for Best Director, though I think there's a chance that could end up in the hands of Cuarón for Gravity. I'm bummed Spike Jonze did not get a Best Director nomination for his amazing work on Her. But what would I like to see win the Best Picture Oscar? While it's a very close call for me between the three films I gave full marks to, my favorite film of 2013 is Her. I feel it is so expertly done and so compelling of a story that comes at such a crucial moment in our technological development  as a society that it is an acutely apropos film.
So to close things off, here are the Best Picture nominations in the order of my most liked (note that the top three are a very close call for me) to least liked:
Her
Philomena
12 Years a Slave
Gravity
Captain Phillips
Dallas Buyers Club
Nebraska
American Hustle
The Wolf of Wall Street
What are your thoughts? What was your favorite film from the nominations? How about your least favorite? Feel free to comment below. And thanks for reading.